What is GAPRAS?
GAPRAS is a new auction site (Recycled Car Parts Sales Mall) that connects recycling plants and customers.
Vehicle inventory information registered on TAPRAS by each company can be published at the GAPRAS Recycled Car Parts Sales Mall.
This published information can then be browsed by professional buyers, other companies in the same industry looking to purchase parts.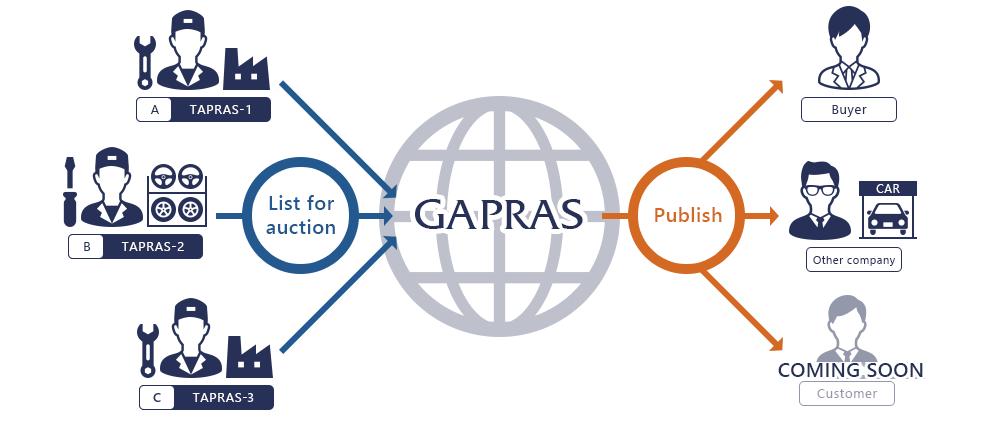 Accepting Seller
---
How about listing your stocked vehicle parts to GAPRAS online auction?
You can release your stock to customers in Japan and overseas, so that it is one of an opportunities to expand sales channels.
We support you to list parts on GAPRAS, feel free to contact us.
Quality evaluation by professionals
---
The state of each part is listed along with photos and videos. We settle clear quality standard for each part.
Our quality ranking system (S, A, B, C, D, E) allows you to judge the quality of a part at a glance.
You can check the engine condition, e.g. the engine noise or smoke colour, via the video. You can order with confidence after checking the quality to making a purchasing decision.
Expanding sales channels in Japan and abroad
---
We can accommodate orders from all over the world.
You can decide to sell only in Japan, or only overseas.
You can rely on GAPRAS for the whole process, from listing to sales and settlement.